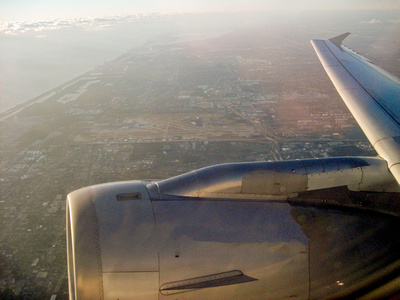 From concerts to baseball and now off to see some of the USA. Our trip is planned for 8 days/7 nights and with just one or two nights at each stop, we will be moving around a great deal. Plans are being developed now and it all sounds very exciting. We will head right for San Francisco, staying at the Hotel Drisco in the Pacific Heights area. As we decided last minute to make this trip it is difficult to get some reservations so we shall just take it as it comes. We can tell you we have checked out several travel agencies to do the planning for us. We thought they might be able to get the more choice accommodations but though they were all pleasant and tried to be helpful we found them to be very expensive. We decided we could plan this one ourselves. It is taking a lot of time and many phone calls to get everything set. We hope you will join with us as we begin our journey on Friday, July 6, heading West, nonstop, on Virgin America Airlines.
7/1/2012 .... We are fast approaching our departure date and are more and more excited about this adventure as we realize some of the places we will stay and the sights we shall see. The first two nights will be at the Hotel Drisco in the Pacific Heights area of San Francisco; then 3 nights at Yosemite National Park; the first two at the Ahwahnee Hotel in the park and one night at the Château du Sureau in the town of Oakhurst. From there we travel back to Napa Valley and shall spend two nights at The Poetry Inn.
We have been fortunate enough to make plans with a highly recommended company owned by Catherine & John DeGrazio ...Y- Explore Yosemite Adventures ... http://yexplore.com. John will be taking us on a tour of some of the spectacular sights in the Park area. Come along with us as we visit and photograph some great USA landmarks.
---------------------------------------------------------
On with the "rest of the story". It had been our plan to write each evening with full details of the day's activities. Obviously, that never happened. Bottom line, the trip was one of the best we have undertaken. They say, "See America First" and we have discovered that it is absolutely true. As we realize that most readers prefer to see photos rather than so many words, we shall try to do just that and tell more of the story with our photos. Incidentally, we had the pleasure of travelling with our son Jay and his wife Roxanne, who did a great job with some of the arrangements.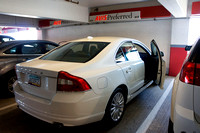 Our flight to San Francisco was happily uneventful. Virgin America airlines, a non-stop flight for us was pleasant ... no hassles with luggage (we carried on everything), easy security with no long lines, on time departure and landing. We got to the car rental section and were overwhelmed with the long, long lines of others waiting to claim cars, from all the agencies. We were sure we would be waiting at least an hour to get to the counter. To our surprise the lines were moving so quickly, we had our car and papers in less than 10 minutes. First hint: If you do not like the car you were assigned, do not go back to the counter ... work it out with the people in the garage. Our selection was a Volvo S80 from Budget, at the price we had agreed to.

SAN FRANCISCO

The Hotel Drisco in the Pacific Heights area sits atop those steep San Francisco streets and can be a challenge when attempting to park the car and walk. The view of the city is breathtaking. The charming sitting area that is more like a living room than a hotel lobby, had urns of coffee, tea, etc. with some lovely chocolate snacks. The hotel has a quiet, old world, elegance and sits in a more residential area.The staff are warm and always helpful.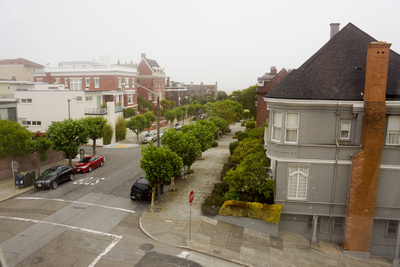 Once settled in our rooms, we began our exploration. As we are animal lovers, our first, third, fourth, sixth, etc. stop was a local dog park. We love playing with and seeing all the magnificent big and little dogs brought to the park by their respective owners. Dinner that evening was at a local restaurant, Garibaldis; simple, pleasant and comfortably priced.


After a sumptuous breakfast the next morning, included in the hotel charges, we were off to the Presidio. Beautiful homes, blooming flowers everywhere, cascading water fountains and at the Presidio, a forest of trees and stairs going down, down, down. They would have been a challenge for the hero of the film "Rocky". The concern is going back up, up, up! Early morning athletes were jogging up and down for their daily exercises. We watched them and took photos. It was enough walking the streets to get there.
Later in the day we were off to the Golden Gate Bridge. Huge crowds! It was that time of year.
We decided to walk the path down to the bottom under the bridge as there was an old fort, Fort Point, that was of interest. Just follow the path we were told. However, the direct path was closed off and so we had to make many detours. We became part of a crowd of people in pink, hundreds, maybe thousands ... all walking for Cancer. The walk down took us a half hour. Fort Point was impressive. Under the bridge there were surfers, beach goers, picnickers and cars. We got a ride back up and that took us 30 minutes. We can imagine how long it would have taken to walk! We found out later that over 30,000 had turned out for the Cancer walk.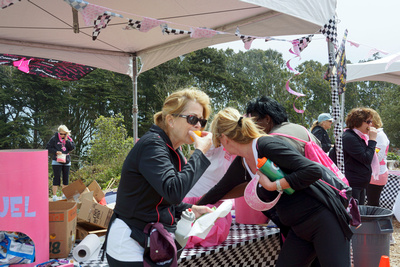 A drive to Muir Woods turned out to be a fiasco as it was so crowded, we could not even park the car, or had to park on the street and be several miles away from the entrance. Hint number 2 ... if you see signs saying the parking is full, believe them.
Once back at the hotel, we ventured forth again for a local Jazz Festival, stopping at the dog park again, coming and going. The Jazz Festival was an enjoyable event, crowded once again, but manageable.

Next morning, after another fantastic breakfast, it was time to make the drive to Yosemite.

YOSEMITE NATIONAL PARK

Armed with an old-fashioned AAA triptik, a Garmin GPS, an iPhone/GPS and an Android/GPS , we had enough directions to be completely confused but arrived at our next destination, The Ahwahnee, right in the National Park in a little over 4 hours. The drive is a little tedious but we all managed just fine. We had been told getting through the entrance to the park could take as much as 2 hours in tourist season. We arrived around 4pm and went right through, no line at all. There is a $20 fee per car for a one week pass. Though there are a number of different kinds of housing inside the park, i.e. tents, cabins, condos, hotels, many people stay in accommodations outside the park area and have to re-enter each day visiting.

THE AHWAHNEE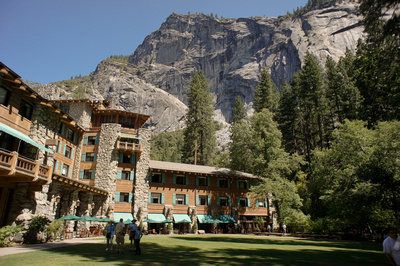 The Ahwahnee is remarkable. The cornerstone was laid in 1926. It was declared a National Historic Landmark in 1987, restored in 1979, re-roofed in 2004 using slate from the same quarry that provided the original roofing and completely refurbished in 2011. The main floor has extremely high ceilings, massive fireplaces, large rooms and big square columns. The floor-to-ceiling windows bring the outside in. Native American design is everywhere; in the guest rooms, bathrooms, the Great Lounge. The dining room is huge with a 34 foot high ceiling and lit with candlelight for the evening meals. The food is excellent. We had breakfast and dinner there. An interesting note passed on by a Park expert ... although The Ahwahnee looks like it's constructed from wood and stone. It's actually made of concrete and stone, to reduce the damage that may be caused by a fire in the Valley.
Our first evening there, we decided to try one of the evening tours. We took their free shuttle to Glacier Point and joined with a Stargazing group. There was a small fee for this. A ranger led us, about 30 adults and children, to a large meadow. Tarps had been placed over the grassy area. There we all relaxed, flat on our backs, staring up at the magnificent sky above. The ranger began telling us stories, some fact and some fictional fairy-tales about the stars above us. It was fascinating, peaceful, inspirational and magical. Back in the big cities, with all the lights blazing, there is no way we could imagine a sight of our universe to equal this. Hint #3 ... do NOT miss the last shuttle back to the hotel. Most of the participants had arrived for the tour via their own cars and dispersed quickly in the darkness. We were the only ones left at the shuttle stop and it was DARK! We phoned for the late-night (past 10pm) car to take us back to the hotel but signals got mixed and we had to phone several times. Thirty minutes later the jitney car did arrive, with all apologies from the driver....her phone had been on the wrong channel and she did not get the messages. All's well that ends well and a lovely evening was shared.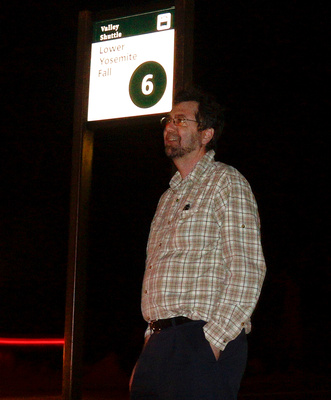 THE BIG EVENT ... Y-EXPLORE

After a fabulous sleep, full breakfast in the gorgeous Ahwahnee dining room and a stroll around the grounds, it was time to meet our guide for the day. Though there are many public tours of the Park available through The Ahwahnee, 2 hour, 4 hour, full day, etc., we were looking for something different. We located Y-Explore through TripAdvisor.com.
Amazing people, John & Catherine DeGrazio! Amazing day! Amazing planning! Amazing photography opportunities! Amazing food! Amazing sights! Do you get the idea? This was an absolutely spectacular visit to Yosemite National Park. We had only the one day to see "everything" Yosemite had to offer and without Y-Explore to guide us there is no way that could have happened. Catherine made all the original plans with us by phone and email. She is warm and gracious and made us feel so comfortable before we even arrived at Yosemite. John took over the day of our excursion. He greeted us with smiles, a strong handshake and we were off on our journey of exploration. Of course there were lots of other people at the iconic areas but John found so many special spots where it was just the four of us that we almost felt as if we were discovering new vistas in the Park. He promised we would see magnificent mountains, waterfalls, deer and a bear. He delivered on everything. The vistas are there but running into the deer and seeing the bear (in the distance) was a special treat. John is an encyclopedia of park information, fact and fiction. His warm personality exudes the excitement of being in the Park. He made you feel the love he has for nature and these surroundings. You could see his eyes light up when sharing his thoughts, introducing newbies to this magical kingdom. Though tired and exhausted from non-stop euphoria all day, we hated to see it end.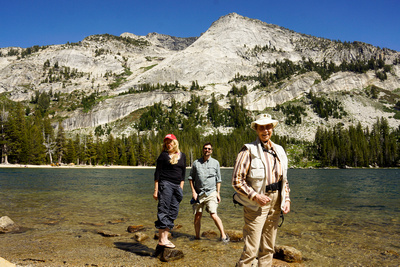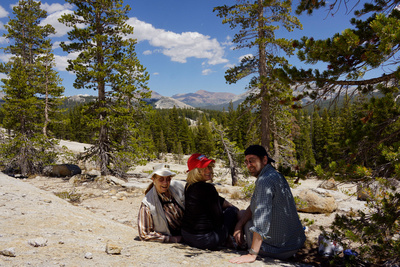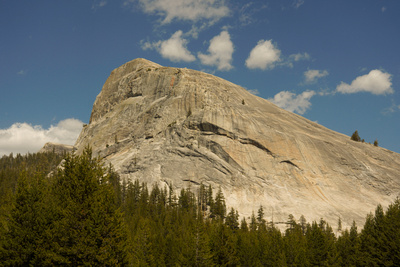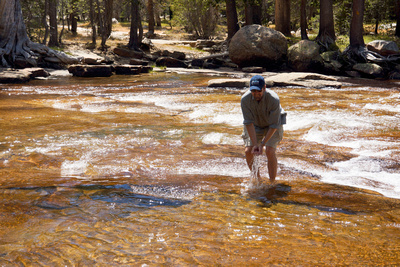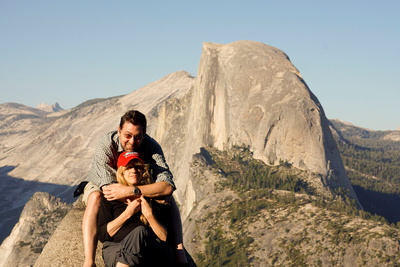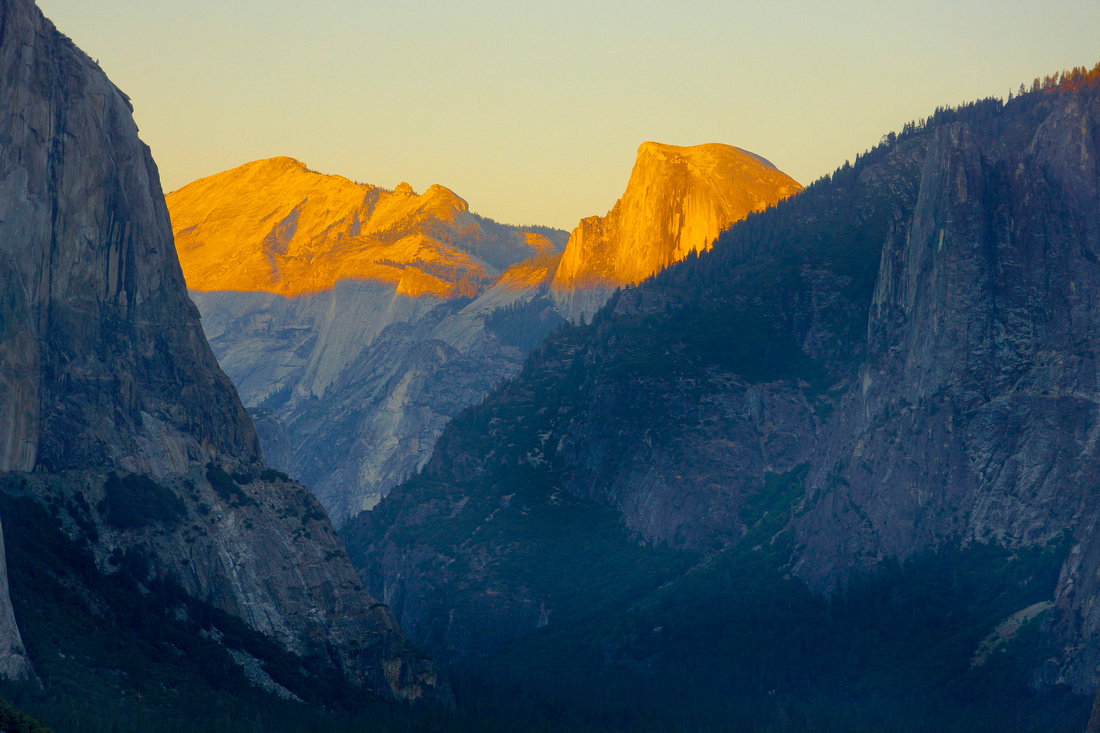 There is no way we would ever be at Yosemite again without John by our side. We got to see: Sentinal Bridge, Cooks Meadow, Lower Yosemite Falls, El Capitan Meadow, Crane Flat, Pot Hole Dome, Tuolumne Meadows, Tuolumne River (and walked in the water), Tenaya Lake (also cooling off in the water), Olmsted Point, Crane Flat, Wawona Tunnel, Tunnel View, Bridalveil Falls, Glacier Point and Porcupine Creek. Just listing these spots makes us tired ... and there was so much more. If you ever get to Yosemite you must check out Y-Explore ... 800-886-8009. We promise you you will be delighted with anything they plan for you: hiking, climbing, photography, private, groups ... you name it and they are THE BEST. They will make your trip one you will always, always remember. To say the least, we were ecstatic with their attention, service and planning. An absolutely perfect day!
After our adventure, we had a light bite and collapsed into bed. A good breakfast next morning and then we checked out of The Ahwahnee and headed to Mariposa Groves. We did not include that in our excursion with John as it is a 2 hour drive from the hotel and we did not want to waste so much time just driving the long distance. This day it was on the way to our next hotel. Yosemite National Park is huge in acreage ... about the size of Rhode Island.
Near Mariposa Groves, we parked in a shopping center at the Mariposa Hotel and took a shuttle bus up the mountain to the grove entrance. There we signed on for their open tram that takes you around the groves in a little over an hour with full descriptions from the driver of what we were seeing. Hint #4 ... Be sure to sit on the driver's side in the tram ... makes for better visibility and photos as you are moving. ... Several stops along the way provided time for photographs. To hike to the first main area takes one and a half hours. We opted for the tram. The Grove is one of the few areas left that has Giant Sequoias and is breathtaking. Some of the trees are over 1000 years old. Hint # 5 ... do NOT take extra time to photograph and gaze at these humongous trees as the tram does not wait for you! We missed it! The next tram would be by half an hour later and, if full, we would not be able to get on. Luckily, a warm hearted volunteer working in the Museum, Jerel Steckling, picked us up and took us right back to our car.

CHATEAU DU SUREAU

Leaving Yosemite National Park we drove about 30 minutes, to this absolutely charming, French castle found right in California. The delightful staff greeted our car as we pulled in, taking us up the winding staircase to our rooms. There are only 10 rooms in the Chateau, each uniquely decorated with antiques, 4-poster beds, gorgeous linens and amenities. No sooner had we arrived than we were brought a tray of assorted wines and sandwiches to snack on. We walked the breathtaking gardens, awash with a myriad of colors and marveled at the array of sculptures. We had a little time to relax and then had a fabulous five course French style gourmet dinner at Erna's Elderberry House Restaurant. Even the menu was adorned with a personal touch ... our names imprinted at the top. Erna joined us for a few moments of table talk.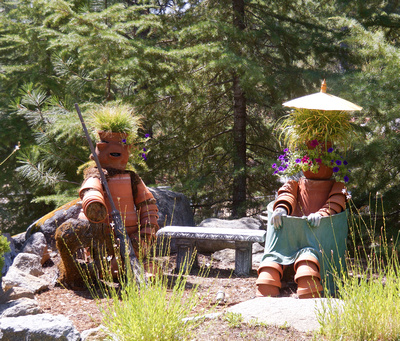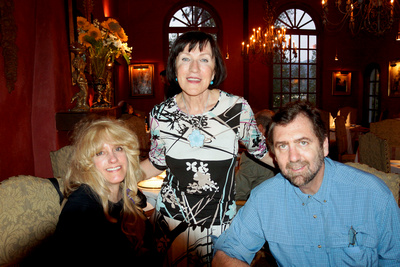 Next morning, we were off to our last destination. After a good breakfast, we said our goodbyes to all. In just the one day we were made to feel part of a family of friends. Hugs were shared, goodbye packages given to each of us with bottles of water for our trip and bags of pistachio nuts to munch on. On to Napa and the wine country.
NAPA VALLEY


THE POETRY INN

The drive back was about 5 hours. It was long, uninteresting, winding roads and highways.. We made one stop for gas and finally got to Napa. On Silverado Trail we watched carefully for the sign to our hotel. It is very easy to miss these signs. The hotel sits high on the mountainside.

We had found an oasis. Once again, we were met at the entrance, this time, by Leona McLaughlin, one of the Innkeepers, with bottles of cold water for each of us. Every time we left or returned to the property, there was Leona or Henrike giving us bottles of water. The Poetry Inn has only 5 rooms but each is more like an apartment with exquisite, tasteful amenities. The view from their breakfast patio is breathtaking as are the views from the rooms we were given. There are outdoor and indoor showers, a steam room shower, spa tubs, enclosed louver door outdoor patios with lounge chairs ... absolutely palatial but with a very homelike feeling. A platter of wine and cheese was offered immediately and accepted with pleasure.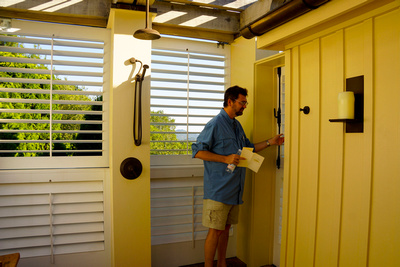 Relaxed and recovered from our arduous drive, we went off to dinner at the Farmstead, a local family oriented reasonably priced restaurant. Most places, during season, require reservations. We could see why. It was crowded, a good sign that showed its local popularity. They offer farm-to-table dining and really mean it. After an excellent dinner, we walked the gardens and could see the vegetables growing, each with its placard telling what it is. All of the crops and hence the food served, is organically produced.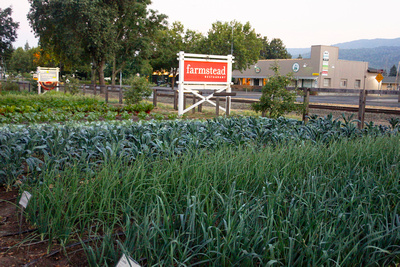 A refreshing sleep on fantastic beds prepared us a little for the gourmet breakfast the next morning. We sat on the luxurious patio, overlooking the expanse of the mountain farm land spread out below us. Although the sun was shining brightly up on the mountain, the mornings are very cold. We were wrapped in wool throws that had been placed on each chair so we could avoid the morning chill. Breakfast was fit for a king. We cannot count the number of courses, all prepared especially for us with impeccable service. Juice, coffee, cappuccinos, remarkable pastries, hot cereals, omelettes filled with all kinds of veggies, crumb covered hot dishes with bananas or apples, plates filled with Nova Scotia salmon and fresh berries and fruits were all consumed with great gusto.
Later in the day we took off to visit several of the wineries. Each has something to offer and each presents itself in different ways. We did many wine tastings, toured caves stacked with bottles of wines, saw the barrels housing the wines, perused the many gift shops, heard the unique story of each winery. We walked their elaborate gardens and were able to get up and personal with the expansive vegetation growing in the vineyards. Doing it this way, we also discovered that we do have definite tastes and found wines we loved and others we did not like at all. That surprised us as we are none wine connoisseurs.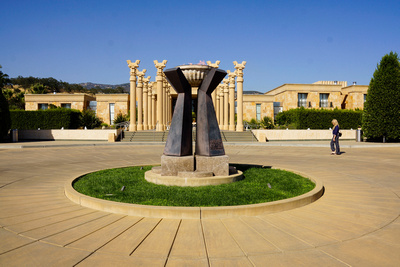 Back to our fabulous Poetry Inn and then off to dinner at Cindy's Backstreet Kitchen. It is a small restaurant in the shopping area of town. Walking in, it was not impressive but comfortable and the food was outstanding. In fact, it was so good, we returned the next day when leaving the area to get some lunch. We can tell you that their grilled cheese sandwich is absolutely delicious and nothing like you have ever had.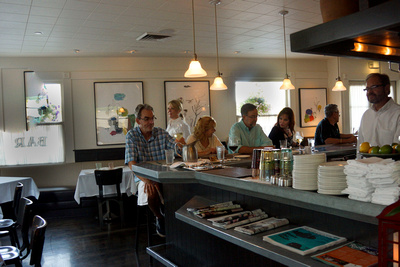 One more glorious night at our Poetry Inn; one more sumptuous breakfast and we had to leave. We got our hugs and water, put luggage in the car and we were off. We made one more stop in Napa before heading back to the airport in San Francisco. We have a friend living in the area and stopped for a warm, lovely visit.

Our arrangements to return home were with Jet Blue airlines. Thankfully, once again, all went smoothly. We returned our rental car, breezed through the security line and boarded the plane for our non-stop, red-eye flight back to Florida.

An amazing trip, taking all of 8 days and 7 nights. We covered a lot of territory and have memories for a lifetime. Each place was special, each hotel was unique but if we were to choose the absolute highlight, we would have to say ... touring Yosemite National Park. You can do it in luxury or backpacking but somehow you should get there. It is one of our countries treasures that should not be missed.



CONTACT INFORMATION:

Virgin America Airlines
877-359-8474

Jet Blue Airlines
800-538-2583

Y-Explore
John & Catherine DeGrazio
Yosemite Adventures
Tours: Private, Groups
http://yexplore.com
209-532-7014
800-886-8009

Hotel Drisco
2901 Pacific Avenue
San Francisco, CA 94115
451-346-2880
hoteldrisco.com

The Ahwahnee
One Ahwahnee Road
Yosemite National Park, CA 95389
801-559-5000
www.YosemitePark.com

Yosemite
DNC Parks & Resorts at Yosemite, Inc
6771 North Palm Avenue
Fresno, CA 93704
www.YosemitePark.com
reservations: 801-559-5000

Yosemite Conservancy
101 Montgomery Street / Suite 1700
San Francisco, CA 94104
800-469-7275
www.yosemiteconservancy.org

Chateau du Sureau
The Estate by the Elderberries
48688 Victoria Lane
Post Office Box 577
Oakhurst, CA 93644
Chateau du Sureau Reservations
559-683-6860
Erna's Elderberry House Reservations
559-683-6800
www.chateausureau.com

The Poetry Inn
6380 Silverado Trail
Stags Leap District
Napa, CA 94558
707-944-0646
visitus@poetryinn.com

WINERIES

Teachworth Winery_Napa Valley_CA
4451 Quail Mts. Lane
Calistoga, CA 94515
707-942-8432

Schramsberg Vineyards_Napa Valley_CA
1400 Schramsberg Road
Calistoga, CA 94515
707-942-4558
www.schramsbrg.com

Chateau Montelena Winery_Napa Valley_CA
1429 Tubbs Lane
Calistoga, CA 94515
707-942-5105
www. montelena.com

Terra Valentine Winery_Napa Valley_CA
3787 Spring Mountain Road
Saint Helena, CA 94574
707-967-8340
www.terravalentine.com

Darioush Winery_Napa Valley_CA
4240 Silverado Trail
Napa, CA 94558
707- 257-2345

RESTAURANTS
Garibaldis Restaurant_San Francisco_CA
Cindy's Backstreet Kitchen_Napa Valley_CA
The Farmstead_Restaurant_Napa Valley_CA
Erna's Elderberry House _Oakhurst_CA

If you have any questions, please contact us. We would also love to hear your comments.

More photos can be found at: Click Here