Baseball Fans & Friends ....

We have recently returned from our visit to an alien, modern ... though thought to be contemporary section of land in Miami, Florida ... known now as Marlins Park.


You have to realize that we are from the generation who remembers the glorious baseball stadium, Ebbets Field that housed the illustrious Brooklyn Dodgers. Ebbets Field was a Major League Baseball park located in the Flatbush section of Brooklyn, New York, USA. It was the home of THE Brooklyn Dodgers of the National League.

We had access to a box behind 3rd base at the stadium, were there for many of their games and had the good fortune of meeting Sandy Koufax on many occasions.

We remember also Yankee Stadium that was located in The Bronx in New York City, New York. It was the home ballpark of the New York Yankees from 1923 to 1973. The stadium's nickname, "The House That Ruth Built", was derived from Babe Ruth, the iconic baseball superstar. And you can also note that a jersey worn by New York Yankee Hall of Famer Babe Ruth recently sold at auction for $4.4 million, the most ever paid for a piece of sports memorabilia.

Rick Miller who played for the Boston Red Sox was a good friend of ours and once when they were playing at Yankee Stadium we were invited to go behind the scenes at the stadium and got the real VIP tour. Rick also took us on a tour of the Boston Red Sox stadium in Boston with its famous Green Monster wall.
We also remember when a frank and soda were $.50 at the stadium!

All exciting, fascinating and intriguing to see and know of these old, old, stadiums that housed so many memories. To us ... majestic stadiums....this was baseball ... until now!

It is in with the new! And new it is. Marlins Park is modern, fresh, fascinating even awesome. Though the planners and architects like to call it "contemporary", we would say it is far ahead of our time... ready for many generations to come.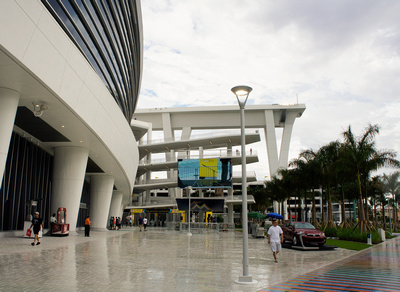 The Marlins moved from a large stadium, originally built for football, into a smaller one seating just 37,000. This is definitely not a "retro" park, it is designed to be ultra modern and just "flow" from area to area.

When we left home for the stadium, it was pouring rain. As we approached the area we could barely see the outline of the stadium in the distance. It was still raining and very misty! We had our tickets and parking pass so on we went. Even their parking garages are unique and part of the design. Pastel wall tiles remind you a little of the deco influence in Miami. There are 4 main parking garages. Garages are conveniently color coded with pennant banners to match its corresponding color quadrant of the stadium: blue for home plate, yellow for first base, red for third base, and green for center field. It was easy to find and there were lots of stadium personnel to guide you to a parking space inside the huge structure.

Once the car was settled in place, we went down the stairs to the street level and outside. As the rains were still around, we wore hooded rain jackets and walked around the entire perimeter of the stadium. We were there to see everything! Looking up we could see the garage pastel, Miami-Deco tiles and huge art tapestries that seemed to hang from the several buildings. Even their parking garages are unique and part of the design.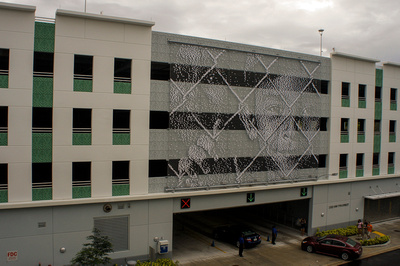 We quickly went to the front entrance. Visiting for the first time is like entering an elaborate, modern art museum. The entrance is highlighted by several huge columns that rise majestically skyward. A couple of pathways are paved with tiny one-inch tiles to form a rhythmic pattern that perceptibly changes for visitors as they walk on it and at times almost seems to vibrate. One area was red and black tiles and another, around the other side of the stadium was green and blue. Though we tried, we could not get them to vibrate ... perhaps it was the wet weather! We walked past some landscaping that is made to look like a beach, palm trees, sand and all, with eye-level cobalt-blue glass to represent the ocean.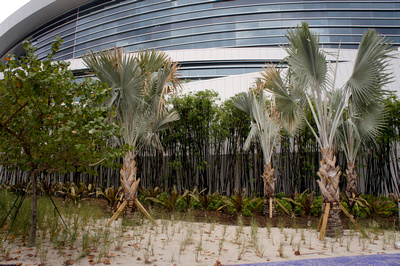 Continuing on our wet walk we found oversized large letters rearranged and spread across the plaza so that they formed new words as we moved around them. They can spell out both "ORANGE BOWL" and "GAME WON". This is a commemorative tribute to the old stadium.
There were private entrances to various special club levels and many vendors ... even in the rain. We were given a pen from one, a t-shirt & canvas shopping bag from another and signed up as non-alcoholic consumers, thereby receiving a coupon for a free soda from any food vendor.

The time had come to enter this superb structure. First, past the gated entrance with the now usual bag inspection ... quick, easy and fast ... up the escalator and onto the main level ... their Promenade. There are three levels of seats for the major part and then two levels of seats are located above the right field fence with limited seating behind the left field fence. Marlins Park is definitely futuristic in design. There is lots of white stucco, silver metal and glass.

The retractable roof was already closed so we stowed the rain jackets and began to look and walk. We were told that with the roof open, you can see the beautiful Miami sky and even closed, we could see through the glass panels that allow the skyline and the heavens to shine through. .

The areas of the stadium are divided into 4 bright colors -- green (outfield), red (third-base line), yellow (first-base line) and blue (behind home plate). The seats are cobalt-blue, facing the naturally green, grass field We guess that makes it easier to find your way back to your seat after getting those refreshments. The 360-degree concourse inside, the Promenade, was fun to walk around and to peruse the bars, eateries, shops and the bobblehead museum that showcases hundreds of bobblehead dolls from all over baseball, jiggling in unison. This place is an art gallery filled with dazzling colors and so much to look at. Cannot believe it but a nightclub with music in a baseball stadium??? and a pool??? Who would have ever thought!


Of course, food of every kind for every nationality can be found around this Promenade. There's even an aquarium inside the walls of home plate backstop containing live, tropical fish. A "home run" sculpture in Center field lights up, rings, moves, etc. when a home run is hit. It is adorned with bright pink, blue, aqua, and orange colors along with many moving parts and a large blue marlin that appears to "jump" into the air.

The stadium is said to be designed to withstand strong hurricanes so guess that is where we should run when the alarm is sounded.

We stopped in to visit the Physical Therapy area and found that it is open when there are no ball games, as well as being used, if necessary, during a game. The University of Miami Health Systems sponsors it and it is available for private therapy sessions that have been prescribed by a physician.

The Clevelander Bar and Swimming Pool were already busy with crowds watching the field set-up and the gorgeous girls in the pool. What we did notice is that once the game actually started ... all eyes were glued to the field!

Built for the future, the stadium is extremely high tech in everything. We would hate to be paying the electric bill. There are no static food menu boards or advertising boards. Everything is digital and can be changed instantly. Menus switch easily from English to Spanish and instant "specials" for the concession stands can appear at any time during the game. Even the onfield signage is changed constantly. The main scoreboard is huge and very colorful. One saving that we are not quite sure of ... seems they are completely "green" and are able to save approximately 6 million gallons of water a year with the use of 249 waterless urinals.

Of course we went to watch a baseball game BUT there is just so much more to this new stadium. We got there an hour early so we could take the time to walk and look and admire this new facility. We think you will want to also. The food is great, the drinks plentiful. Oh, during the game we walked the Promenade to check on visibility from all the different seating areas and found excellent viewing from anyplace in the stadium... high, low, infield or outfield ... we could see everything clearly.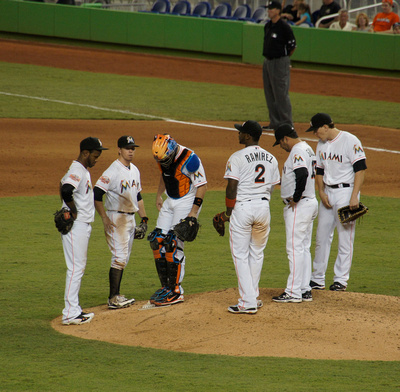 When the game began, we just sat back and "enjoyed". The Marlins were playing the Colorado Rockies team. There were enough hits, runs, change of pitchers to keep it interesting. The Marlins were ahead 6-4; then 7-4 ... and we were ready to leave after the 7th inning. However, Colorado came back the beginning of the 8th, before we had left ... score now 7-6 ... and the game really got exciting. We sat down again and stayed to the end. The Marlins were able to hold on, even with 3-2 counts against them and men on bases. Final score.. 7-6 Marlins! The Marlins had a win and we had a surprise. Bells and whistles blew; the Home Run scoreboard came alive and the large blue marlin did leap while several of the scoreboards blared the news ... Marlins Win!

An exciting end to an exciting evening ... but that was not all. When we began walking up the stairs to leave, we heard a slight strange sound and glanced upward. The retractable roof was being opened! We stood there watching as this gigantic roof slid smoothly back to expose the black sky of the evening. Unfortunately, there were no stars to be seen. It was magnificent to see and all happened in less than 10 minutes. It was a spectacular climax to our evening of exploration.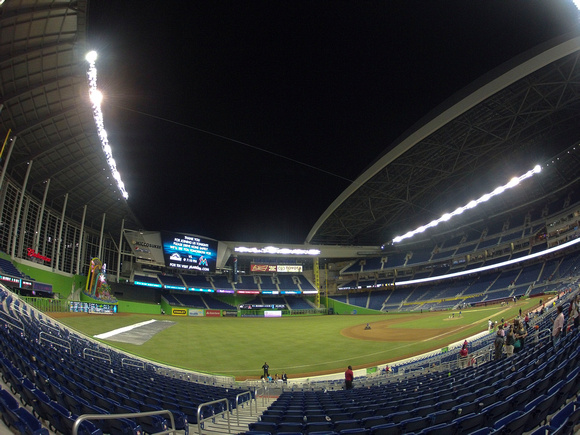 And yet, there is still more! Walking out, we passed The Clevelander Bar and saw crowds going in. In for a penny, in for a pound so we joined the crowd and went forth. Inside were comfortable crowds, we think they limit the number inside at any one time. The bar was busy, the music was playing, the girls that were once in the pool were now on a stage dancing and the place was jumping. However, the big attraction seemed to be all the TV screens above the bar ... the Heat basketball team were playing an important game and most were now watching that.

Going back to the parking lot we could see large puddles that told us it had been pouring rain while we were dry inside the stadium watching the ball game. It was a nice feeling to know how comfortable we had been and even nicer to realize that there was no noise from the rain on this new roofing. Until we were walking through the puddles we had no idea it had been raining during the game.

Driving home we talked about the evening. The game; the fun; the excitement; the comfortable crowds; the feeling of joy being in such a beautiful stadium ... all adding to a delightful evening out. We have not even talked about the many pieces of art, amazing sculptures, hundreds of photographs and thousands of wall treatments. That is to discover for yourself. We do think it should be on your list of places to see and visit while in Miami. You will not see this anyplace else. This is truly Miami!
For additional images.... CLICK HERE